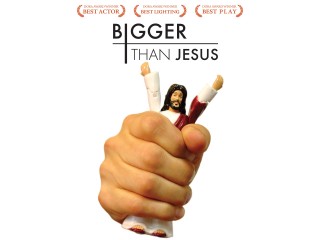 Jesus returns to Toronto to raves reviews
October 1, 2011
Rick Miller and Daniel Brooks' international hit Bigger Than Jesus returns to Toronto to rave reviews. 
Read them in TorontoStage.com,  Mooney on Theatre, CharPoCanada, Stage Door, and SceneChanges
Interview in Post City Magazine.
More on the way...
And come to Factory Theatre between Sept 29-Oct 9 to see the show, as it may be the last time it plays Toronto!
Bigger Than Jesus (co-created with Daniel Brooks and Necessary Angel) was a huge hit at Factory Theatre in 2004 and 2005, winning 3 Dora awards.  The "sinfully funny" multimedia mass has since become an international success story, playing in 6 countries and 4 languages. 
NEXT UP:  HARDSELL (Oct 13-23) is based on the Miller/Brooks co-creation that premiered at Canadian Stage in 2009.  For this Factory reworking, Miller has adapted the play into a riveting 'performance/lecture' that boldly examines the commodification of everything and the lies inherent in advertising. 
For video of all 3 shows, go to
WYRD's YouTube Channel
. 
Photos: Michael Cooper
Factory Theatre's 2011-12 season
&lt&lt Back To News